As a tradie, you need your tools to get the job done. A business is no different – you can't reach your goals without the right tools.
That's why we've developed a brand new feature that will provide an easy-to-use view of your numbers. Powered by our Xero integration, the Business Performance Dashboard will help you see how your business is really performing and also what your margins would look like if you added or removed costs.
Why knowing your numbers is power
To move the dial on your business performance, it helps to understand gross profit, cash flow forecasting, and stock management. Typically, it all boils down to this: when you're charging for a job, you want to make sure that the amount billed will cover not just your labour, materials and overheads, but also leave you with roughly 10% of that revenue that you can put aside as net profit. You can then use this money to pay off debts, buy a van or take a pay-day (a dividend).
Of course, this formula makes it sound far easier than it is in reality. Many trades businesses, no matter how much work they have on, struggle to even get that 10%. The industry is competitive (to say the least) and the pricing of your services is more or less dictated by the market. You can't charge 50% more than the market average on a job, because the other guy will simply beat you to it, right? So how can you then pocket more cash for all that hard yakka?
The easiest way to make more profit is to maximise your billable hours and minimise purchasing and other costs. Easier said than done, we know – which is why we made the Business Performance Dashboard.
"A lot of trades businesses struggle to make a good margin, but what's worse is that even more businesses can't see what margin they're getting."
The Business Performance Dashboard was designed to give you more visibility over your business's key figures over a period of time, and then help you see how you can increase your share of the pie.
Get the run down from Fergus Founder, Dan
What does the Business Performance Dashboard do?
By now, you're likely already familiar with our Financial Summary and you may have used our Business Activity Report. The Business Performance Dashboard takes things to a new level by focusing on your company's financial and operational metrics. How well any business performs, including yours, depends on financial metrics (like gross and net profit) and operational metrics (such as chargeable hours, margins on materials, and overheads) and how they stand in relation to each other.
Using data from Xero and Fergus, the Business Performance Dashboard:
1. Gives you a top-level overview of your company's financial and operational metrics
2. Allows you to see what the effect is on your bottom line if you change an operational metric.
Now, let's break this down by using some examples.
Forecast the figures you need to succeed
In plain English, this means that if you change a cost in your business, the Business Performance Dashboard will immediately tell you how it will impact your net and/or gross profit. Say that you plan to reduce the cost of rent (an overhead) by 5% – taking all other metrics into account, the tool will calculate how much your net profit will go up.
If you want to increase your margins, you can use the Business Performance Dashboard to figure out which area of your business you should tweak to increase your chargeable rate and reduce overheads. The end goal, of course, is to improve your gross and net profit and pocket more cash for all the hard yards.
FAQ
Who can use the Business Performance Dashboard (BPD)?
The BPD is available to Fergus customers who are on the Professional Plan and connected to Xero. At the moment, the BPD does not currently support other accounting integrations.
If you're a business owner or a manager and a Fergus & Xero customer, this is a must for you.
When should I use the Business Performance Dashboard?
It's best to review the BPD at the end of the month. This is when all of your activities in Fergus and Xero have been finished and you can see all your completed key metrics for that month. You will need to have at least three months' worth of data for the Dashboard to show meaningful insights.
How can I configure the Business Performance Dashboard?
To make sure your BPD works properly, make sure that you tick the following steps. Don't hesitate to loop in your accountant and see if they can help you:
Your Fergus account is on a Professional Plan and is connected to Xero.
Your Xero chart of accounts must be set up with direct labour and direct materials accounts (tagged with Direct Cost as the Account Type). Sales accounts should have Revenue as the Account type.
Your sales account codes in the Fergus settings section are configured.
Your account category mapping in Fergus is completed. Go to Settings > Integration Centre > Settings.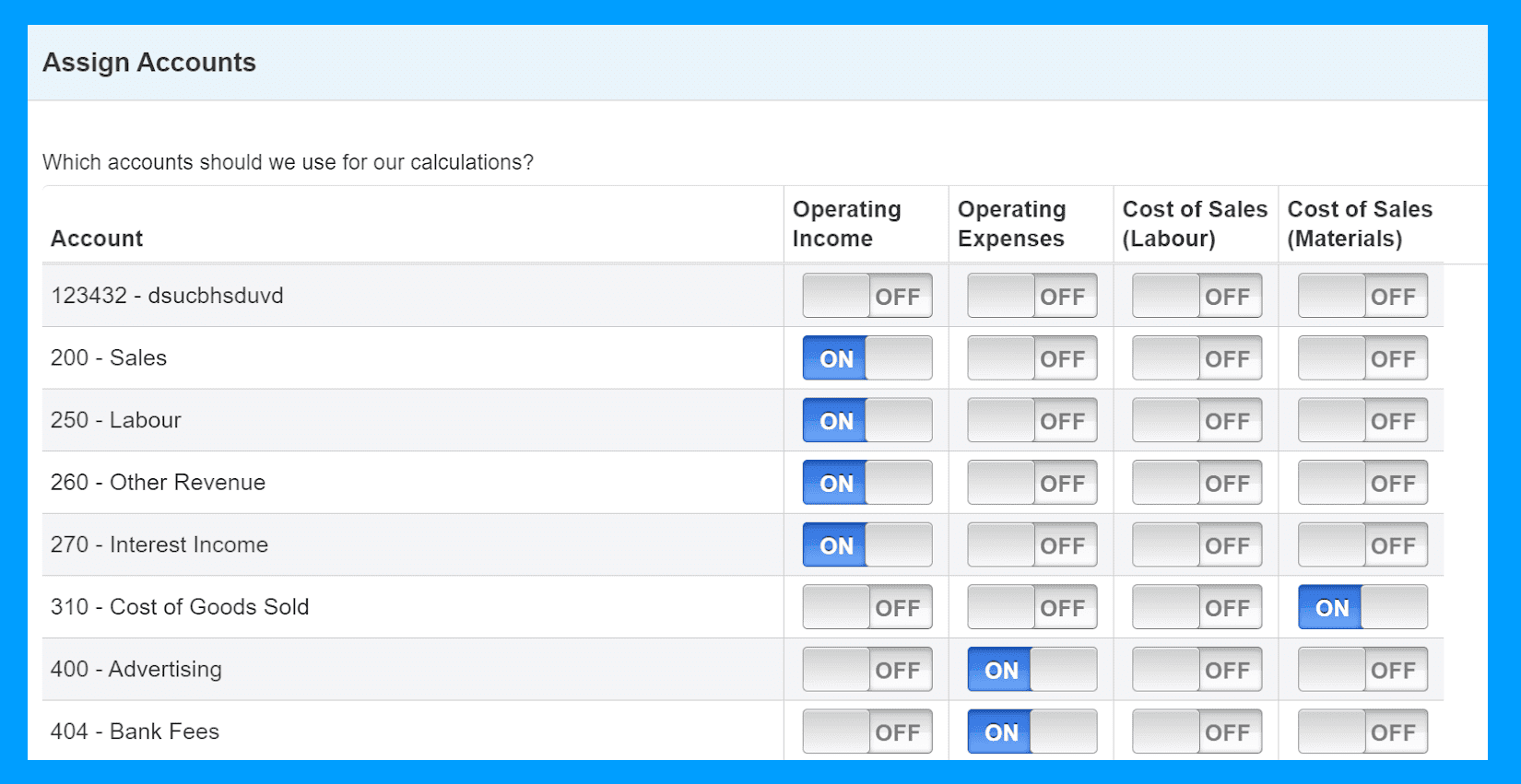 This feature will be made available to customers on the Professional Plan who are Xero-connected in our next release.
Want more detail on how to get the most out of the feature? Watch this 1-hour business coaching session on the 3 levers with Dan, Fergus Founder here.