As a trades business owner, you already know that getting paid on time is crucial for cash flow. Well, it turns out, you can encourage your customers to settle their invoice sooner by giving them the option to pay by credit card.
Fergus Pay is a secure credit card payment feature powered by Stripe that allows your customers to easily pay you by credit card.
In this article, learn the benefits of getting paid faster and how you could be getting cash-in-hand up to twice as fast! We've crunched the numbers on the average days to get paid across Australia and New Zealand for alternative payment methods and share how this stacks up to small business benchmarks.
Cash, and why you need to keep it flowing
Cash is a key pillar of any financially stable operation, no matter how big or small. You're likely all too familiar with the woes late-paying customers can cause you. One or two forgetful customers aren't a big deal, but the number of unpaid invoices can quickly get out of control.
When the inflow of money starts lagging, your business might end up on the back foot. Add an economic slump set off by the COVID pandemic to the mix, and things can really start to snowball.
So what are the advantages of getting paid sooner? Aside from the obvious, alleviating the stress and time associated with chasing late payments, the quicker your debtors pay you, the better positioned you are to run your business efficiently. From paying your own staff, to putting you in a favourable position with your suppliers. Being in a cash flow positive position is vital for the well being of your business and your ability to continue growing.
According to Xero's Small Business Insights, small and medium-sized companies that are paid slower than average have 3 percentage points' lower revenue growth than those paid faster.
Why are your customers late to pay?
There are a hundred and one reasons why some customers don't pay their bills and invoices on time, but most fall into three buckets. The first type of late-paying customer is simply forgetful. The second type finds the whole bank transfer thing a hassle, which causes them to delay. The third type simply cannot afford to fork out the lump sum in one go.
Luckily, there is one easy fix for all three. With Fergus Pay, our smart credit card payment solution, every one of your customers can send quick and fuss-free payments to you. You can even collect it from them on-site using the Fergus Mobile App. The more straightforward it is for them to do so, the sooner you'll be able to pocket your hard-earned cash.
Don't just take our word for it – our data shows that tradies who use Fergus Pay get paid twice as quickly than those who don't!
A comparison - average number of days to get paid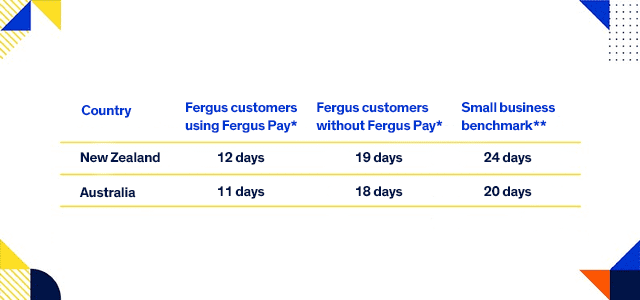 We crunched the numbers on thousands of invoices, revealing that payments made by credit card (via Fergus Pay) are received 38% faster than any other payment method and twice as fast as small business standards. This is across both Australia and New Zealand, in which the industry average to get paid is between 20-24 days**!
Fergus Pay fits many bills
Not only does Fergus Pay enable you to get paid faster, but it also brings a bunch of other benefits to your business. For one, it allows you to cast a wider net when you're looking for new customers because you're adding a new payment option (debit or credit card) to your accepted payment methods. Some people prefer to pay by credit card. For others, it's more of a necessity – if they have a major plumbing emergency, for example, but can't afford to pay in cash right away, putting it on their card will be the only feasible solution. Whatever the reason, you've got both situations covered.
Receiving your payments more quickly also means you'll be able to pay your suppliers sooner, which is guaranteed to earn you some brownie points. By having liquid assets available, you're also dodging pricey overdraft fees and interest rates. It can all add up and make the difference between a profitable business and a not-so-profitable one. Not to even mention, offering a simple yet reliable and secure payment solution lends extra credibility to your company. If you're eager to learn more, we've compiled a list of 10 ways Fergus Pay can transform your cash flow.
How does it work?
The set-up process is plain sailing – if you're a Fergus customer click here to sign up for Stripe. Follow the steps as prompted, and you'll be good to go in no time! No set-up fees or convoluted processes to go through, we promise.
If you don't have a Fergus account yet, but would like to take Fergus Pay for a spin, sign up for a free trial of our job management software now.
---
*Data from Fergus App invoicing (these figures are across the board, irrespective of individual payment terms)
** Data Xero's Small Business Insights across Australia and New Zealand in June 2021.