As a young business owner in the male-dominated electrical industry, Cathy Cockin from West Yorkshire, UK, is a force to be reckoned with. Cathy didn't always know she was going to get her hands dirty; in fact, her career goal was to become a solicitor. But it quickly became clear to her that life had other plans in store.
From DIY house projects to retraining as a sparky
Cathy got her degree in law and soon landed a job in a legal firm in Leeds specialising in conveyancing. Her partner was working as a plasterer at the time. When the couple decided to buy a house together, they chose one that needed a lot of renovation work. The electrician they used was struggling to fit them in and Cathy and her partner rolled up their sleeves and went as DIY as they could – they redid all of the floors and plastering and built the partitions.
The following year, Cathy bought another house in the village she grew up in. Just like last time, the same problems emerged: the house needed extensive work, and the electrician was too busy. Cathy describes herself as quite an impatient person so when she found out that she could retrain as a domestic electrician by enrolling in an intense course, she had her lightbulb moment!
Swapping out legal papers for pliers and wire strippers
Originally, the plan was to use this knowledge to rewire her own house, but after her first week on the course, something "clicked" and Cathy decided to quit her job. "I just had enough. I wanted to be on-site and spend my time renovating the house. I felt so much more at ease there than sitting behind a screen the whole day."
She then convinced an electrician called Steve to join him on the weekends as a labourer. It wasn't long before she was assisting him full time while doing her training for domestic wiring. With a little help from Steve, she was able to rewire her entire house within a few months. Cathy used this work as her assessment piece with NICEIC, the governing body for electricians in the UK, to show that she had what it takes to become a sparky. Luckily, they immediately saw the potential in Cathy and recognised her drive and determination.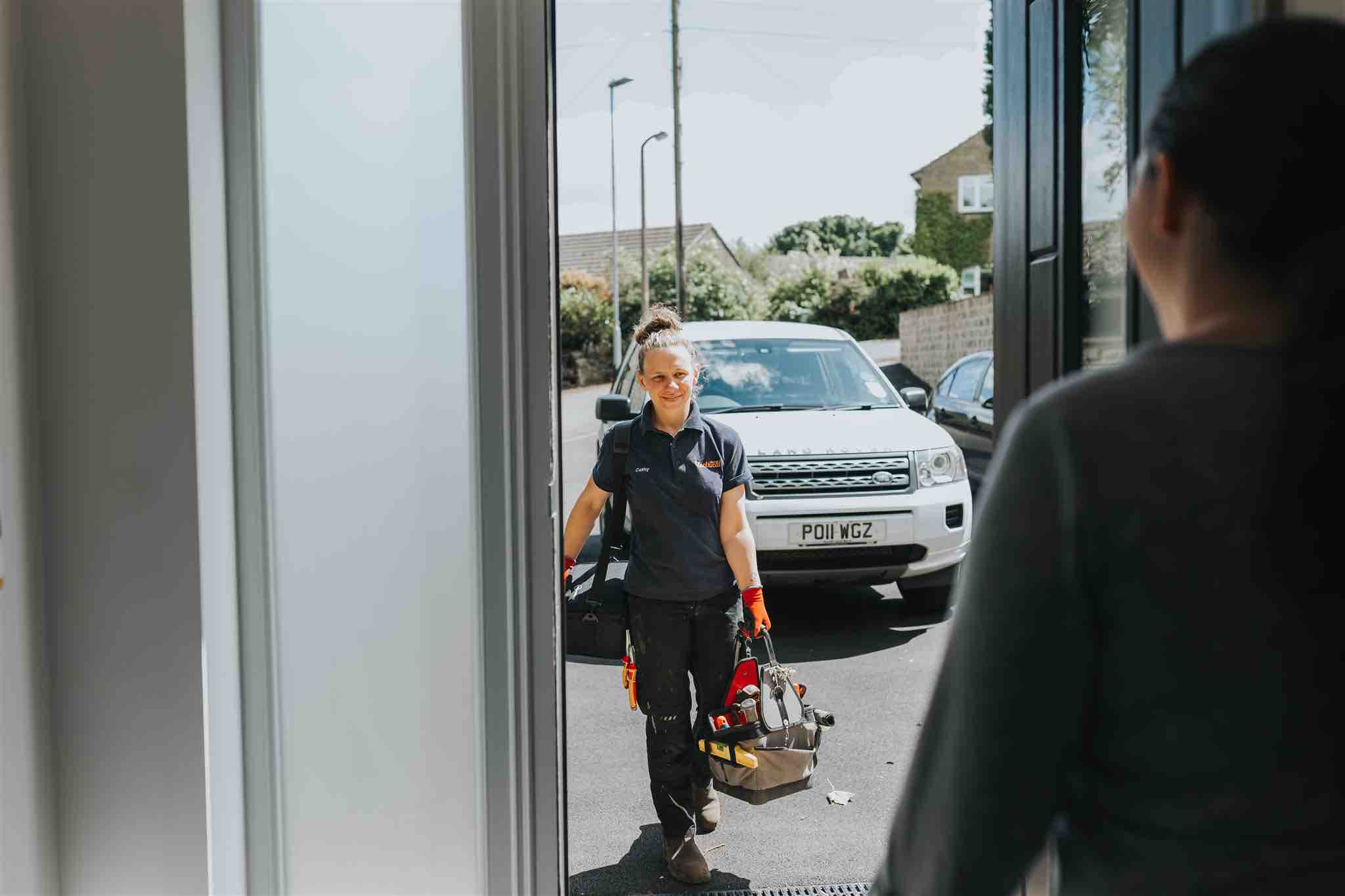 Some people had doubts that someone could learn the trade so quickly, as it typically takes 4 years to do the apprenticeship. But Cathy was past her teenage years and already used to intense studying – not to mention extremely motivated. It took her only 12 months from leaving her legal assistant job to being able to take up her first electrical job independently.
Cathy admits that entering the industry as a late starter can be challenging. Many companies don't want to take on apprentices over the age of 19 because employees have to pay them higher wages and fund a part of their college course. The way she worked around it was by breaking up her 5-week intense learning course for domestic wiring into single weeks, and between those weeks working with Steve as a labourer. So "it was almost like an apprenticeship, but a quicker one", she explains. When she decided to become fully qualified, she pursued a night course for Operative Levels 2 and 3.
How Little Miss Electrical came about
Cathy started her own company, Little Miss Electrical, at the end of 2017 and the business has been growing at breakneck speed since. At the moment, the firm has 9 employees including Cathy.
At the start, she wasn't sure how to brand herself or stand out in the market. The answer presented itself when she went to a networking event where everyone was blown away that she was a female sparky. "You have such a strong USP [unique selling point] there. You need to brand yourself as a female electrician so that everyone knows that straight away", they kept telling her. So Cathy reached out to a branding agency to work things out and soon, the name and the now-famous round yellow logo of Little Miss Electrical were born.
Trailblazing the way for tradeswomen in the UK
It didn't take long before word of a female-owned electrical company got out. Ever since, Cathy has been flooded with job applications from other women:
"I've hired a few male electricians when things were really busy, but we mainly get interest from female apprentices and electricians because they see we're a female team. It can be quite scary to go into an industry that's so male-saturated, so I think that's why so many young girls and women feel safe to approach us. I am getting so many emails from girls that either want to retrain or get into the industry, which is incredibly exciting."
Cathy has been going to a lot of schools on career days and she's definitely noticed an uptake in how many young women showed interest in joining a trade. Change is, slowly but surely, on the way.
Little Miss Electrical's customers have also been nothing but supportive in the four years since the business began. And Cathy is aware that she's not just a business owner, she's also a role model and an advocate for more gender equality in the trades:
"Some people say that we shouldn't make a big deal out of the fact we're female sparkies, but at the end of the day, you have to realize that there are hardly any female electricians out there. If we're vocal about it now, it will encourage more gender diversity in the industry – to the point where, one day, hopefully, there's going to be a good chance that you're either a male or female electrician and it just won't matter."
Stepping up operations with Fergus
As the Little Miss Electrical team started growing, they first used a mix of Google Maps, Google Calendar, Apple Calendar and Whatsapp to manage their jobs and communicate with each other. By Cathy's admission, it was hard to get anywhere with it. One day, she was on a job when the customer said to her: "My son is also a tradesperson and they use this software called Fergus." Cathy was intrigued and signed up for a free trial. At first, she was reluctant to change her ways of doing things, even though she knew that the motley mix of calendars and messaging apps wasn't the right solution for her growing company. She persevered and quickly saw the potential in Fergus for running the day-to-day operations of her business:
"As soon as I tried using Fergus on a job, I realised it was actually super simple and I just needed to devote some time learning how to use it. It quickly made a massive difference because it organises everything in one place. Now I simply can't imagine not having Fergus."
Using technology to create a standout customer experience
With Fergus in the fold, invoicing is now a walk in the park. Previously, Cathy was using Microsoft Word to send out invoices: "I can't believe how much harder I made it on myself", she admits with a laugh.
The team have only recently started using Fergus Forms, but it has quickly become a favourite. Cathy shares custom-built forms with her staff so that they can fill them out at a job and easily send the required information back to her. This way, the team members won't forget anything – it's all there in front of them.
Cathy says that she stands out from her competition because every customer experience Little Miss Electrical delivers is professional, consistent and repeatable, and Fergus is one of the levers that makes that happen. As she puts it:
"People see us as this really professional company now and so much of that is because we use Fergus – from how our invoices and quotes look, to the automated SMS reminders that confirm appointments to customers. It was such a big turning point for us."
Cathy's tips for success
Cathy recommends every trades business owner or manager to get field service management software – no matter how small or new to the game they might be.
"For a small company just starting out, even if it's just you, Fergus is so useful because you can go back to any job you did, no matter how long ago. You should definitely start off with Fergus because you're never too small to use it."
Accounting software is another thing you should get from the outset, she notes. She makes an excellent point: "A lot of people do their taxes at the end of the tax year and have to work it all backwards from there, but with something like Xero or QuickBooks, you have everything recorded from day 1."
Another trick that helped Little Miss Electrical spread the word so fast is always asking for a review. They add a review request on every invoice email they send, and it links to the places where customers can leave those reviews. This way, they don't even have to remember to ask every time.
Exciting times ahead
Little Miss Electrical is getting busier by the day and Cathy's glad she has Fergus handle the massive volume of jobs they have coming in. At the moment, she and the team are focusing on using Fergus to its full potential and perfecting their processes.
By the end of the year, Cathy plans to bring two new members on board and continue building the groundwork for future growth.
We have absolutely no doubt she and her staff will keep on changing the game.
Make sure you follow Cathy and her incredible team on Facebook, Twitter, LinkedIn and Instagram!