Meet Luke Smith, a qualified carpenter/builder and owner of Smith Brothers Building for the past 7 years. This career path was always on the cards for Luke, despite originally training as a butcher. With a lineage of tradesmen in the family (Dad a carpenter and Pops a builder), Luke soon went from helping out the family to taking on an apprenticeship and he hasn't looked back.
Based in the Illawarra region of New South Wales, Australia, Smith Brothers Building specialises in designer renovations and bespoke entertainment areas. We had a chat with Luke about his journey and how Fergus is helping him get the business to where he wants it to be.
Starting a new building company
After several years working in commercial building and then on designer homes in the Blue Mountains, Luke decided it was time to go out on his own. His younger brother Nicholas was keen to jump aboard at the time, hence the company name, and they started taking on a number of smaller sized projects - Luke estimates up to 60 a year.
There was a lot of project management and using Excel to keep track of jobs was a bit of a nightmare. Luke says tracking jobs in real-time was next to impossible and it led to a lot of double handling.
I'd often lose track of where I was up to, especially with invoicing. I'd be scrolling back through my bank statements trying to work out what payments had come through, it wasn't a great way to run the business.
Scheduling the team was time-consuming and often meant texting or calling around to make sure people knew where they needed to be.
Sunday night, Monday morning the texts would start rolling in, 'Where are we tomorrow?', 'What job are we at?', so scheduling the guys just added to the number of phone calls and texts I would make in a day.
Trying to understand which jobs he was making or losing money on was difficult and it was also hard to see how the business was doing financially overall.
An introduction to a smarter way of working
Luke knew he needed to find a better way, but the decision to move to Job Management Software came off the back of a recommendation from a fellow tradie.
My mate sat down with me and walked me through how he scheduled his guys in, how he was back costing and how he was quoting with Fergus and I was like you beauty, this does everything in one.
The fact that Fergus has a native integration with Xero, which they had already been using for two years, sealed the deal and Luke signed up with Fergus.
He describes getting up and running with Fergus as a really smooth transition. Luke made use of online training with the Customer Success team to learn the ins and outs of the product and set it up so it really catered for his business.
I was initially a bit overwhelmed, I'm not extremely tech savvy, but after a few calls and screen sharing sessions I was fluent enough to be able to fly with it. If I can use it, I'd say just about anyone can.
Preparing the business for growth
Luke's has been focussing on putting good systems and processes in place to create a seamless customer experience and set a good foundation for growth. Fergus is a big part of this and he says it's given him the clarity to make better business decisions.
Fergus has brought all my projects into one dashboard. I'm not forgetting about jobs. Everything's in one place and it's easy to see what money is outstanding and what's been paid.
The best thing about Fergus for Luke is the financial summary, which he says gives him visibility into exactly where he's up to on any given project. He especially likes how you can drill down to see whether it's the labour or materials that have been oversighted and he uses that information to improve the quoting process.
If you've got a 4 week job and you're already 75% financially expelled, you can nip it in the bud sooner rather than later, you know. It's difficult to estimate, you can't see what's underneath the ground or behind the walls, but Fergus lets you be more accurate with the things you can control.
Favourites (saved groups of materials) in Fergus have reduced the amount of time Luke spends on data entry when quoting, which has been a big bonus. Every few weeks, he looks at the Status Board with his new office manager to check out all the quotes that are on the go, so he can hone in on his preferred jobs. Alongside the complexity and location of the work, he's able to consider the impact the job will have on cash flow and the company's overall financial position this month, next month and the months to come.
The details in Fergus around work in progress and cash flow also helped Luke secure Home and Builders Warranty Insurance. He's now able to take on larger projects, which he believes will really help him scale.
Luke is making good use of the Fergus calendar to map out jobs and allocate labour, which alone has shaved hours off his working week. He's got more time to train his two apprentices and outside of work do more of the things he loves like motorbiking with the boys or getting out on the jet ski.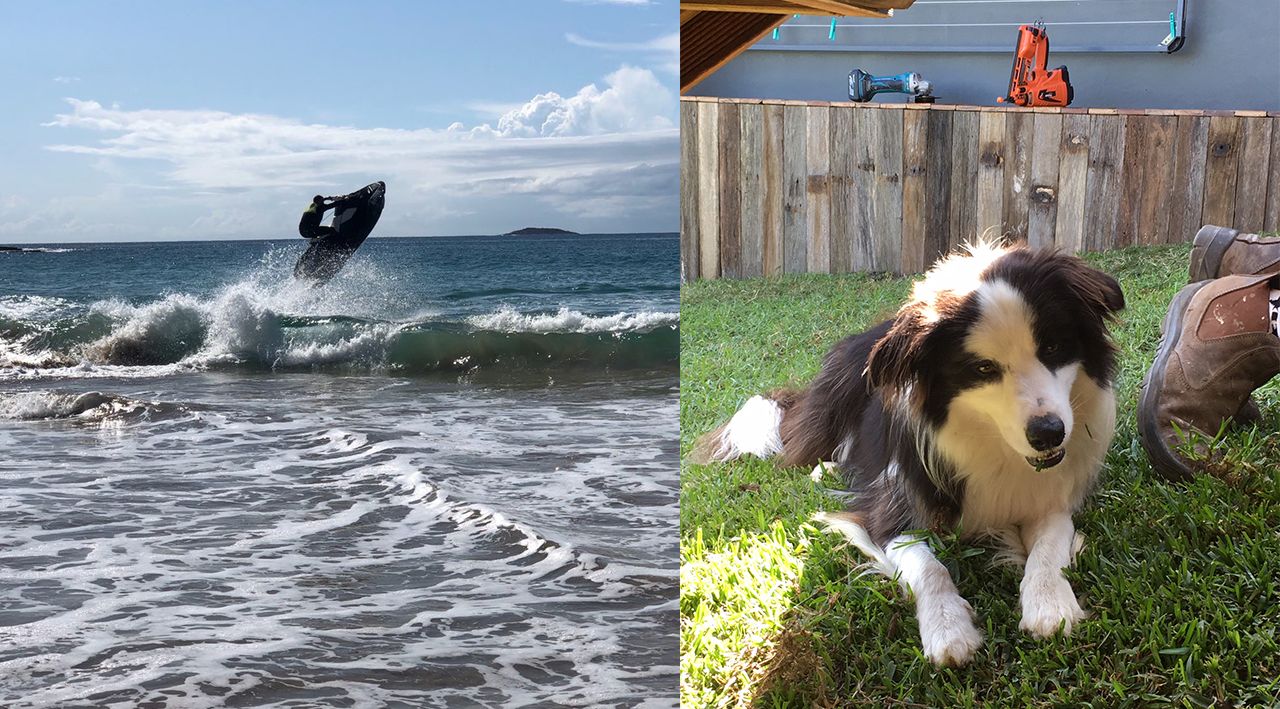 Luke's top tips for fellow tradies
When we asked Luke about his top tips for other tradies it was simple. Get on top of the numbers in your business and use that information to help you make better decisions.
You can't measure something that you're not tracking. You cannot scale a business if you're not looking at your numbers. Took me a few years to work that out, but I got there!
Luke says he's also conscious of making sure he and the team are still enjoying coming to work everyday.
I've been there working weekends and getting really stressed out. I was working harder but not making any more money, so now the priority is working smarter and taking the weekends to recharge, spend time with Jaime Lee and our dog, Jax.
We think Luke is doing a stellar job and we're sure the work he's putting in now is really going to act as a springboard for the future success of Smith Brothers Building. You can follow Luke and the team on Facebook or Instagram or check out their website here.