The idea of starting a new, mobile, Refrigeration business amidst a global pandemic, would be too much for many, but not these go-getters. Meet Myles Bradley and Sarah Bradford, joint owners/managers of Outback Tradies. Their dream is to work and travel around Australia's rural and remote areas, putting Myles' expertise in Commercial Refrigeration to good use. We had a chat with Sarah, from the comfort of their caravan, about how the new venture came about and why she thinks systems, like Fergus, are key to success when you're starting a new trades business.
The story begins with Myles' parents, who founded a HVAC business south of Sydney some 30 years ago. Under his Dad's wing, Myles completed his Refrigeration and Air Conditioning apprenticeship, before relocating to Queensland and beginning to specialise in Commercial Refrigeration. Fast forward to 2018, the pair moved back to New South Wales to take over Myles' family business before deciding to sell and chase their Outback Tradies dream. So it's fair to say, this new gig ain't their first rodeo.
Transforming the HVAC business from paper to digital
As successors to the family HVAC business, Myles and Sarah brought with them an attitude and approach of a new generation. Pen and paper just wasn't going to cut it, nor was the Microsoft Access database they inherited.
"These systems just slowed us down and the team had no real insight into their schedules until they showed up to work each day. It was important that we automate and systematise what we could, so we could start to make some efficiency gains."
One the first things Sarah tackled was systems, starting with Job Management Software. Sarah describes herself as very thorough and it was extremely important to her that she cover all the bases. The job software had to be able to do the basics well, like entering and scheduling jobs, but also tracking their progress. The company had a BYOD (bring your own device) policy for their staff and technicians, so it was also important that it could be used on both Apple and Android devices.
"I researched the absolute hell out of the Job Management solutions out there and did a lot of demos. I'm all about options, so I listed all the features and compared everything up and in the end Fergus was the best fit."
She estimates she spent a good 6-8 weeks finding the right tool. They then trialled Fergus over the Christmas period and when the technicians got back to work they really took off with it.
The transition was a lot smoother than anticipated. They integrated Fergus with Xero Accounting Software and over time unpacked the different features of the App and worked out how they could get the most out of the software for the betterment of the business.
Finding cost-efficiencies with modern systems and processes
The efficiency improvements off the back of implementing Fergus were significant.
"We needed something that could keep up with the pace of the work that was coming in. We needed to be able to go to site and then quote by the end of the day and the same with invoicing. Fergus really helped us on that front."
Sarah loved having everything in one place and especially liked the way the Fergus dashboard visually showed the movement of jobs through the workflow. The advantage of being able to track job or customer history was also a big advantage over their inherited database.
Feedback from the technicians was really positive, they could view the schedule in advance meaning they could query things ahead of time and simply prepare themselves mentally for the week ahead. It also saw administrative tasks reduced by a whopping 66%.
"We did experience redundancies in our office after implementing Fergus, as it removed a lot of the workload. It was bittersweet, we regretted having to let people go, but from a business perspective it drastically reduced our operating expenses."
Sarah and Myles worked extremely hard to get the business in tip top shape and are proud of the business they have since handed over to new owners in order to pursue their mobile Tradie dream.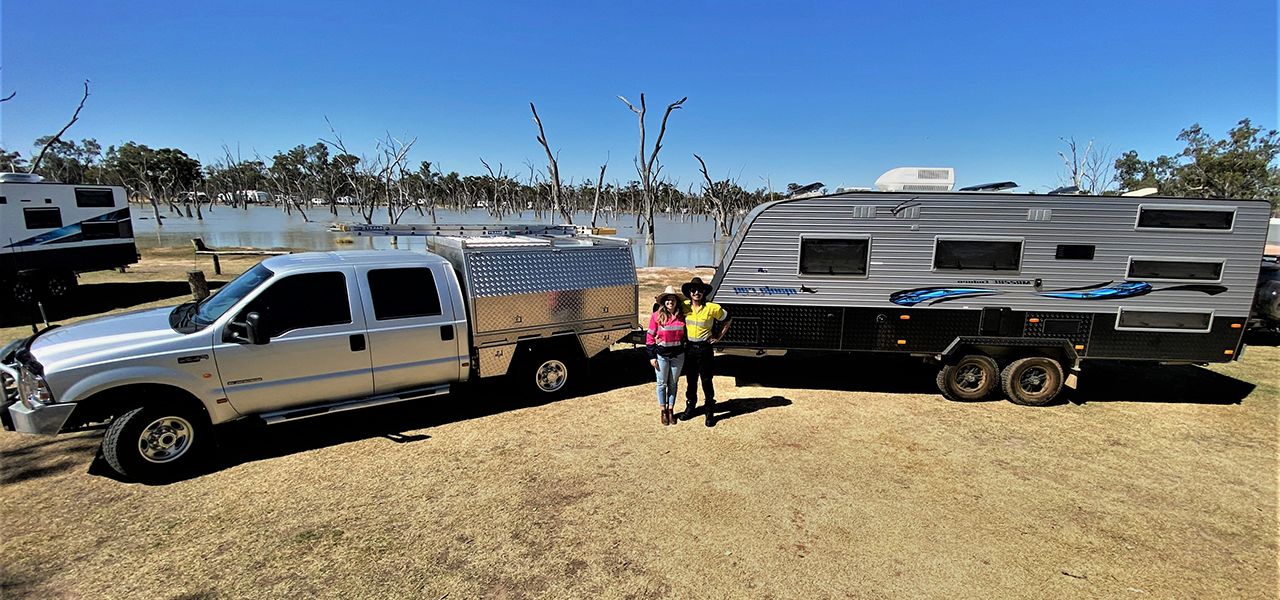 Applying lessons learnt to the new Refrigeration business
While the pair learnt a lot in the process of digitally transforming the HVAC business, Sarah's the first to admit that starting a business from scratch has presented new challenges.
Even though Outback Tradies' current job volume is low, one area they haven't held back on is getting the right systems in place. They are continuing to use Fergus, paired with Xero to manage incoming work and Myles' schedule.
"We want people to know that we are a professional establishment from the get-go. So we've just gone straight in, got our software sorted. I will happily spend money for the convenience of automation. Having that level of organisation makes life that much easier and gives us a solid foundation off which we can grow down the track."
Sarah and Myles are currently Queensland based and move between clients on a referral basis. Myles has grown a strong reputation for his ability to diagnose and fix some of the most complex refrigeration faults. While he's on the tools, Sarah is also working as an adviser, helping their clients pinpoint areas of their business that are lacking or slacking and finding solutions to improve them.
Top tip for fellow tradies
When we asked Sarah what her top tip for fellow tradies would be, she got straight to the point.
"If you're looking to shift from pen and paper to software, just do it. Honestly it's a life saver in business. You can automate everything in this day and age. Just automate as much as you possibly can, so you can spend your time on the things that matter."
We'll be watching this pair with intrigue over the coming months. Once Covid restrictions lift, they will be looking to expand the operation and start moving more freely around Australia. So if you see Sarah and Myles on the road, be sure to give them a wave!
You can follow Sarah and Myles' adventures on Facebook or Instagram or reach out via email at gday@outbacktradie.com.