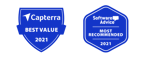 Cut your admin time in half
Forget the late nights and weekends spent manually entering in supplier invoices.
Integrate with 100+ suppliers.
Get your supplier invoices sent straight to Fergus, automatically importing line items and matching to the right jobs.
Instantly assign invoices to jobs with one click.
Send purchase orders directly from Fergus to suppliers for pricing, pickup or delivery. Skip the line and save time.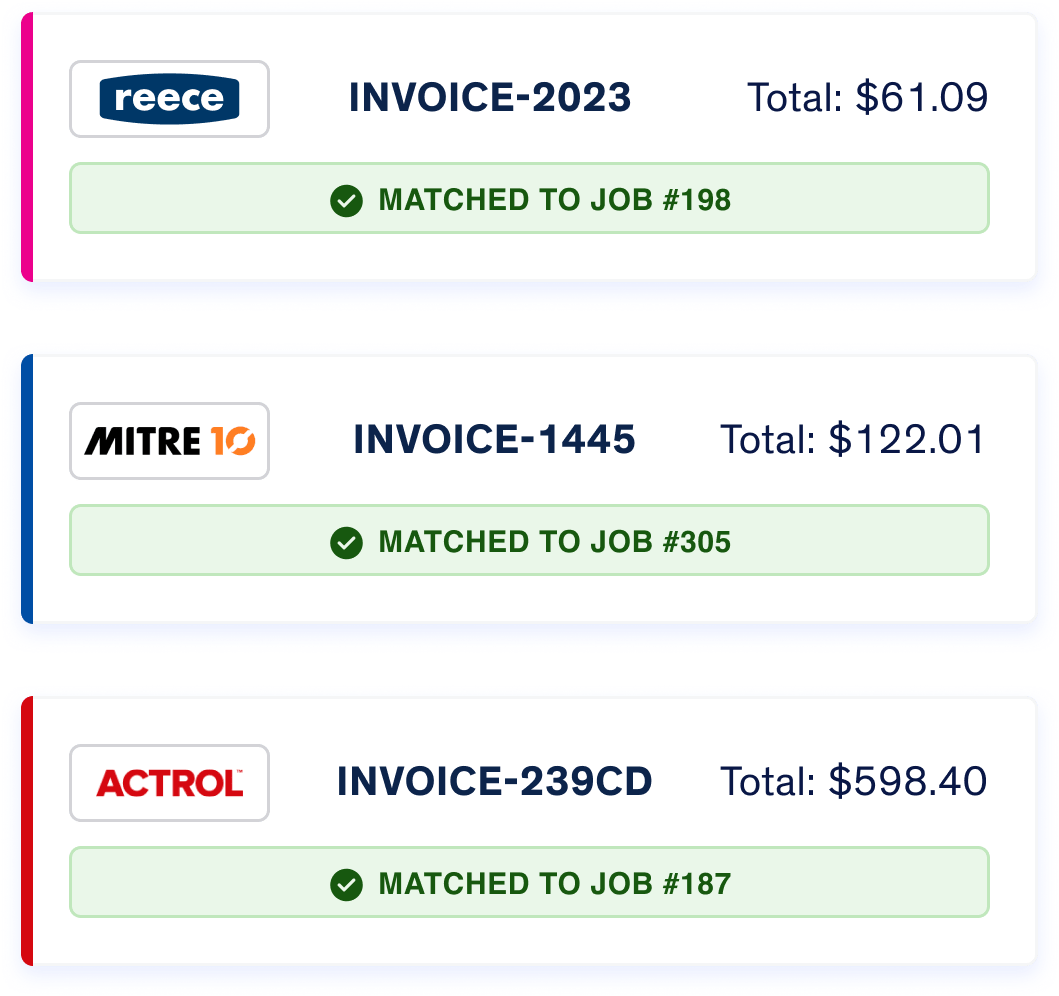 Never miss charging out a cost
Rest easy knowing every material cost gets allocated to a job and nothing falls through the cracks.
Easily track all your supplier documents and costs all in one place.
Split supplier invoices across multiple jobs and job phases for accurate invoicing and quicker back costing.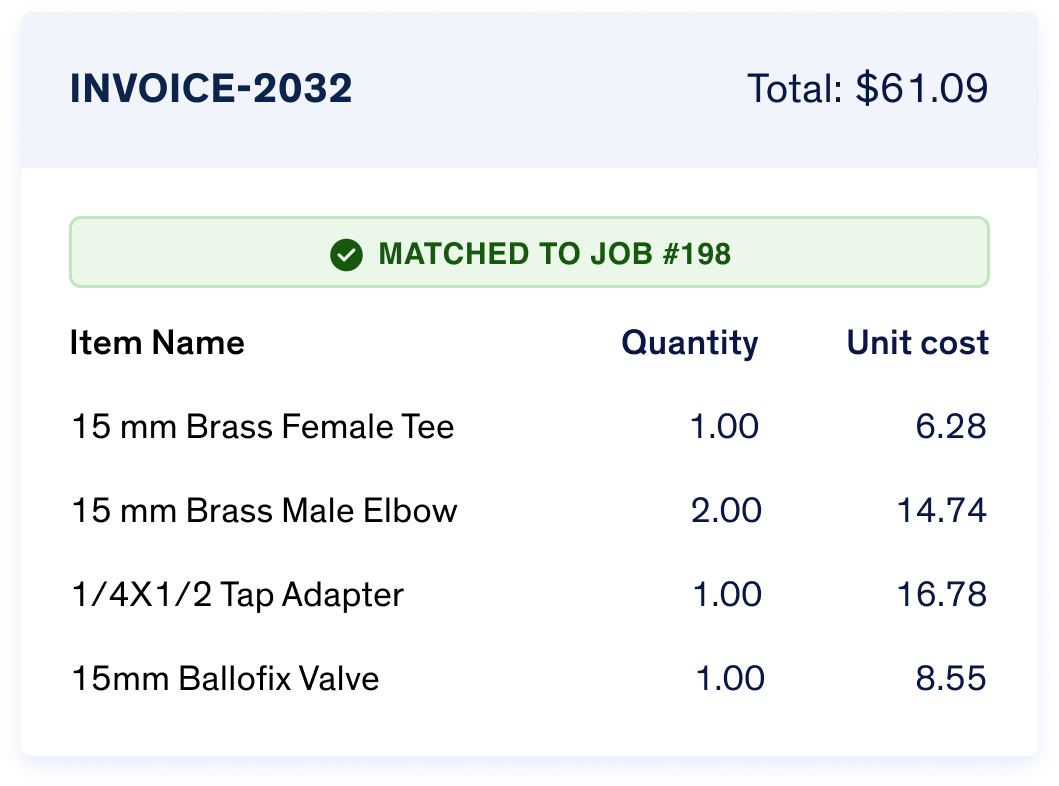 Invoice in minutes
With labour and material costs already allocated to the job, get your customer invoices out the door in no time. Quick and painless.
Invoice directly from a quote or create a quick invoice with all your material & labour costs.
Used stock on hand for a job? Pull in line items with up-to-date pricing from supplier price books instantly imported to Fergus.
Apply margins & discounts with a few clicks.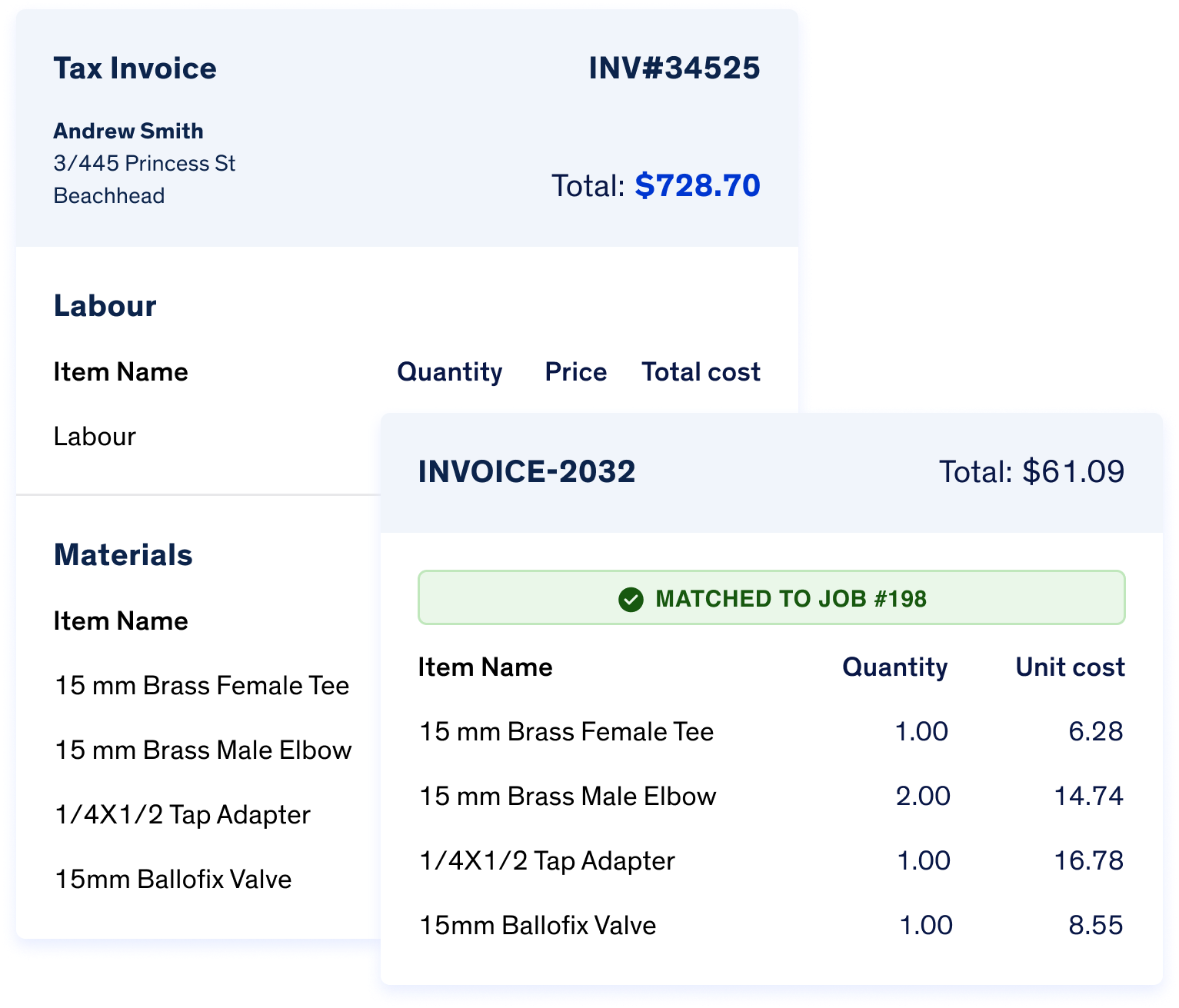 MAKING TRADESPEOPLES' LIVES EASIER
Streamline & simplify your workflows
Leverage all features of Fergus software to cut admin time and effortlessly manage your jobs from start to finish.
Keep organised with customer details, job files, photos, notes, history, and certificates - all in one place - and run your trades business with ease.
See what customers are sayings about Fergus
"Seamless connection from the suppliers to Fergus and then to Xero. It has help us reduce admin time, which lets me have more time."

Craig, Verified user, GetApp
"Automating importation of supplier invoices, allowing for faster invoicing of customers - resulting in improved cash flow."

Mike, Director, H & O Plumbing
"Automation with trade suppliers so we never miss charging on materials or hours."

"lt cut right back on paper work and the hours entering supplier invoices into the correct jobs - now done automatically."

Colin, Director at electrical company

Expert guidance
We offer free virtual and in-person events to help your team get up and running and making the most out of Fergus.
Local support
Our exceptional support team offers live chat, phone, and email support around the clock at no added cost.
Help resources
Guided product walkthroughs, video, and help documentation are always available for you every step of the way.