Creating personalised forms for jobs on Fergus has been a highly requested feature, so we're super excited to be able to introduce our latest Add-On, Forms.
At any stage of a job, whether it is residential or commercial, there are often instructions, policies or compliance standards that need to be met before you can move on to the next stage. Our Forms Add-On offers a simple solution to getting any type of form you need for a job into the software and out to the team.
With Forms, you can now create your own custom forms from within your Fergus account. From Job Safety Analysis (JSA) forms, Safe Work Management Statements (SWMS), general Health and Safety forms, assessment reports or even for jobs and stages you need reviewed and filled out by the team - the options are endless.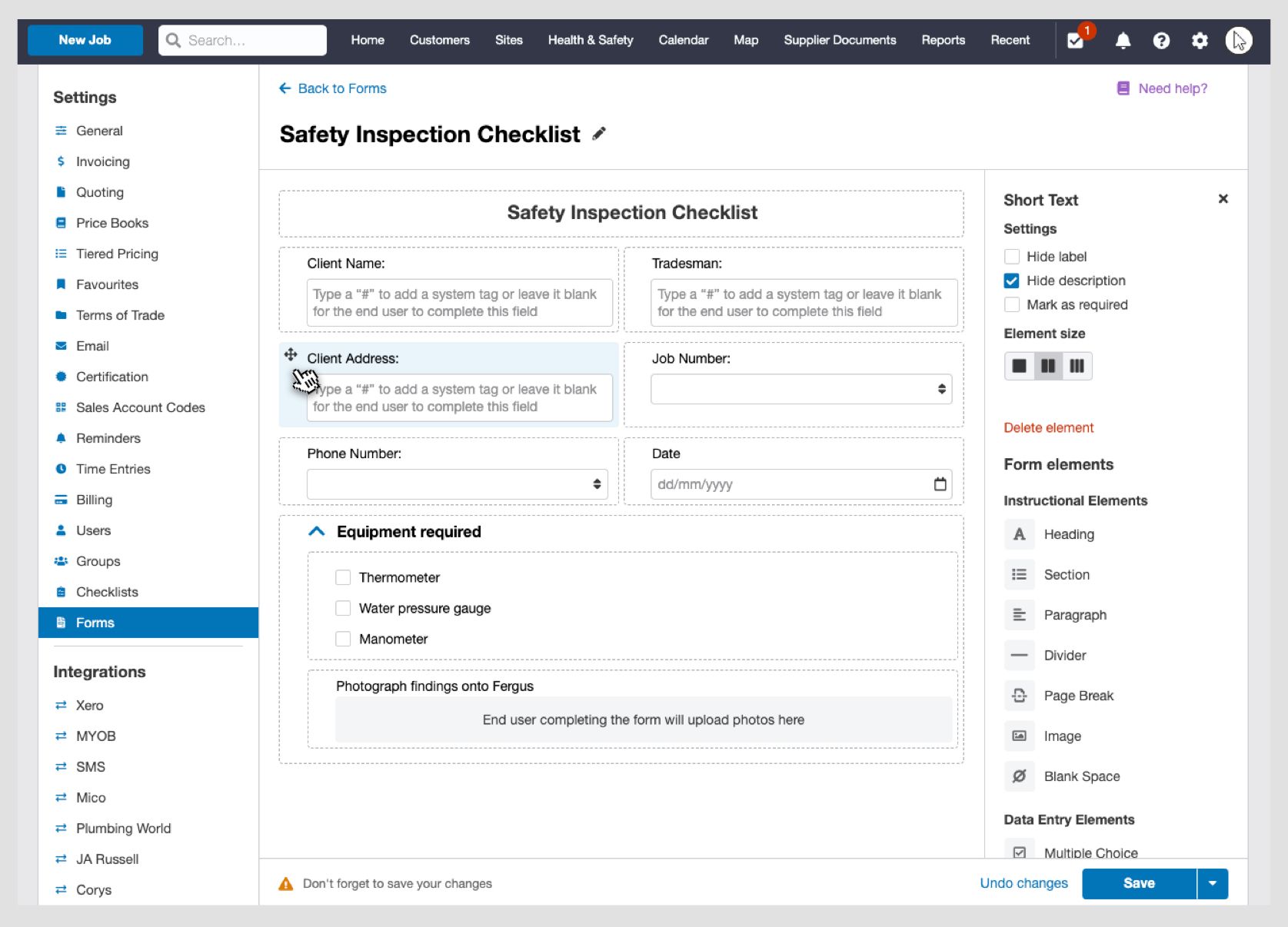 How does Forms work?
You start by creating a form template using the Form Builder (pictured below), which has been designed with simplicity in mind. With a range of different form elements (or field types) and easy drag and drop functionality, form templates can be created with ease. The width and location of these elements is extremely flexible and all form templates (and therefore forms) can be personalised with your own company logo using the image element.
We've also developed System Tags that can be inserted into fields on the form template itself. Simply insert a hash into any field in the Form Builder and all available System Tags e.g. #customer-main-contact-first-name or #job-number will appear for selection. These tags pull information onto the form from the Job Card it's attached to. This is a great way to ensure that all the standard information required on the form is correct, eliminating data entry mishaps.
With the right permissions anyone in your team (including Timesheet users) can access and complete forms for jobs and/or sites they are assigned to. And yes, forms can be completed via the Mobile App too. You can also grant permission for specific users to be able to edit or change details on a previously submitted form. When adjustments are made, Fergus ensures you have complete oversight of any changes with the new and original versions of the form kept against the job.
Your on-site team can add photos to forms and they can also include a signature element to cater for any necessary approval processes. Once submitted, the form is generated into a PDF that sits under Files and Photos against the Job. They can also be emailed to customers or other third parties for them to keep their own records.
Like many features of Fergus, one of the biggest benefits of our Forms Add-On is that it eliminates the need for paper-based systems and the problems that go with them. All your job documentation is in one place, stored securely inside Fergus.
A recap on Forms functionality:
Easy to use drag and drop Form Builder for creating templates
Brand Forms with your own company logo
Customise your Forms with a large range of different Form elements
System Tags to ensure accurate information capture and minimise data entry for fast Form completion
Forms are stored against the Job under Files and Photos for future reference
Forms can include a signature field for approval on-the-go
Forms can be emailed to customers or third parties
Forms can be accessed and completed by all App users (with the right permissions) including on mobile
Version control if changes need to be made to a already completed Form
Unlimited number of Form templates and Forms, enabling variations to cater for any specific compliance or customer requirements.
How to get started with Forms
Whether it's a version of an existing form you have sitting outside of the Fergus App or a new form you want to create, you can get started now.
Forms is currently available free to anyone in their 30-Day Trial, as well as Fergus Customers regardless of what plan you are on as part of our launch.
If you are a Fergus customer, you will find Forms under Settings > Fergus Labs > Forms. Head to Fergus Help for a step-by-step guide to using the Form Builder and more.
If you are not already a Customer, sign up for a Free Trial and give it a whirl.