No-one is going to forget these last few months. Covid-19 has spread across the world at speed, stopping our lifestyles and in some cases, our livelihoods, in their tracks. It's been a bit of a scramble, taking care of business, of each other and of ourselves amongst a lot of uncertainty.
As second waves arise, both in Australasia and around the globe, thinking is changing to how we will respond once to crisis is over to how we can survive amidst an ongoing crisis. We are no longer in reaction mode, but actively looking for ways to mitigate risk and the impact on our business more intentionally with a long term view.
Before we get into exactly what actions to take, it's helpful to think about where we are right now, in terms of the business cycle. The Covid-19 pandemic has resulted in a sharp economic recession. A lot of the job and revenue losses were immediate, however further lockdowns in geo-specific areas is effecting further losses in these regions.
The depth of the trough will likely correlate strongly with the peak of the pandemic crisis, but as we witness numerous second waves around the world, it's unclear at this point in time, exactly how long this crisis will last for.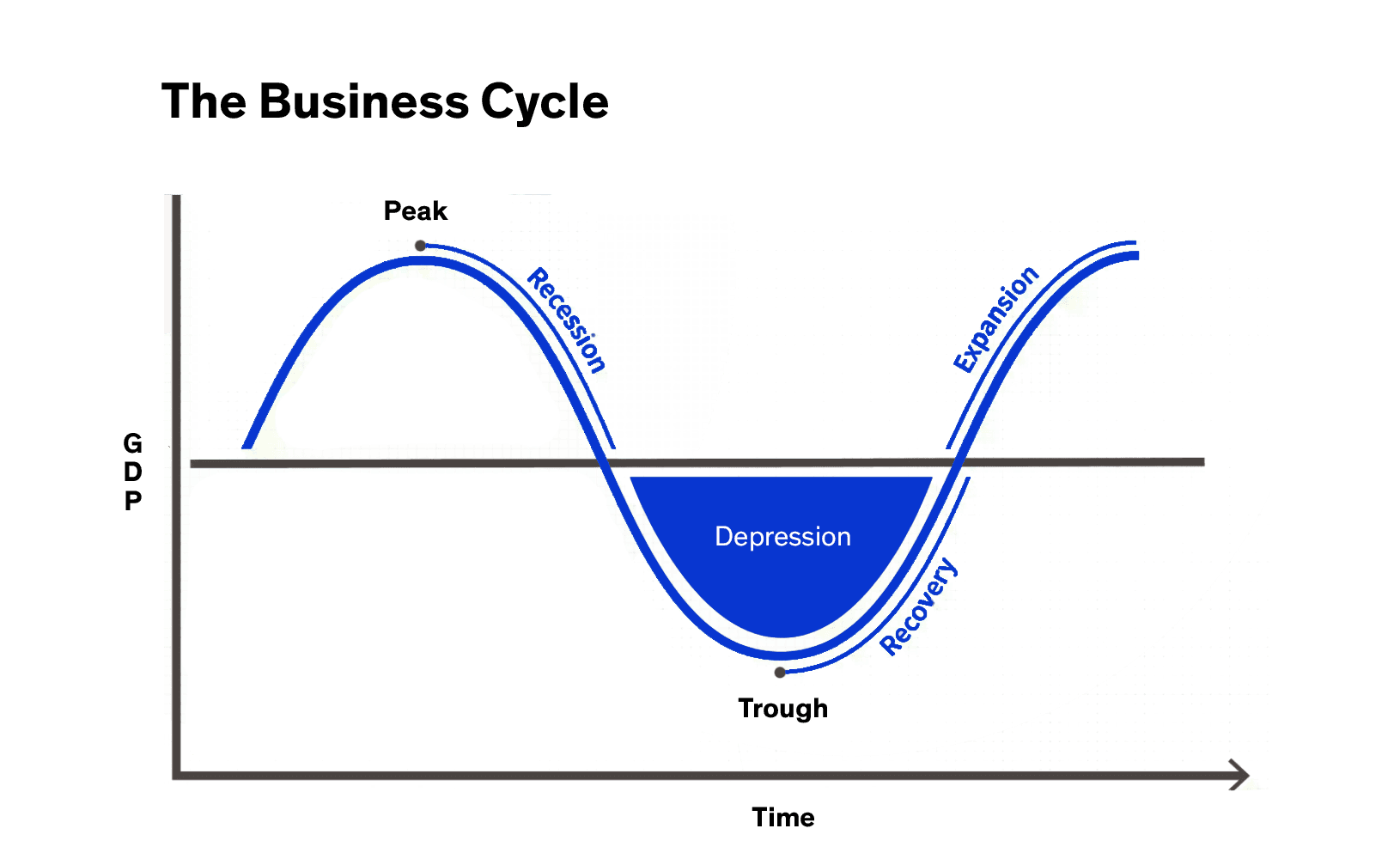 Preparing for the future
It's your job now to prepare for future work and to get alignment across your business and stakeholders, including your customers, staff and suppliers, in order to develop a solid financial plan to move forward.
Alignment is key when we're faced with uncertainty or ambiguity and no-one knows exactly how long the crisis is going to be. You can't predict the future, but if you're 100% clear on where you are going and have a solid plan to back it up, it puts you in good stead to tackle bumps along the way.
Here's an example for you for a company impacted by lockdown restrictions: Scenario 1 - with alignment: you've spoken to your customers and know that you have four weeks of work lined up as soon as Covid-19 restrictions are lifted. You have made an informed decision that you can afford to hold onto your lease vehicles during this time.

Scenario 2 - no alignment: you haven't spoken to your customers, but assume they will want you to commence work as soon as you're able. You've also decided to hold onto your lease vehicles, only to discover now that the work you thought you had lined up, in fact wasn't.
You get the point. So what does alignment look like in terms of money?
It's crucial that you are able to answer these six questions:
What is your cash to come in and what can you really get in? Sure, your books might tell you have a certain amount of money owing, but what figure are you confident you will actually get?
How much cash do you need to pay the bills? This includes your monthly fixed and variable overheads.
What, if anything, can you afford to cut right now? Keeping in mind that you have a lot of room to negotiate right now. Governments around the world are putting their weight behind keeping people in business and that has extended to leniency from banks, landlords etc.
What workload are you actually coming back to? This is where you need to talk to your customers. You have to be on the same page. Just because you can go back to work, doesn't mean your customers will want you coming back straight away - so ask them! This will also help you understand your staff requirements and your ability to give your team more clarity.
What are your staff costs? Who do you need, office staff and workers, and what do your employment contracts say? If there's not enough work for everyone, consider asking staff to work reduced hours.
Have you got what you can get from the government? If you don't know the answer to this, then talk to your accountant as soon as possible.
Forecasting your cash flow
Earlier this week, Dan, Fergus Founder and veteran tradie, ran a tutorial in which he walked through this simple cash flow forecasting template. We encourage you to watch the tutorial on-demand and use the template to document the answers to the questions above. This will then act as the foundation of your financial plan.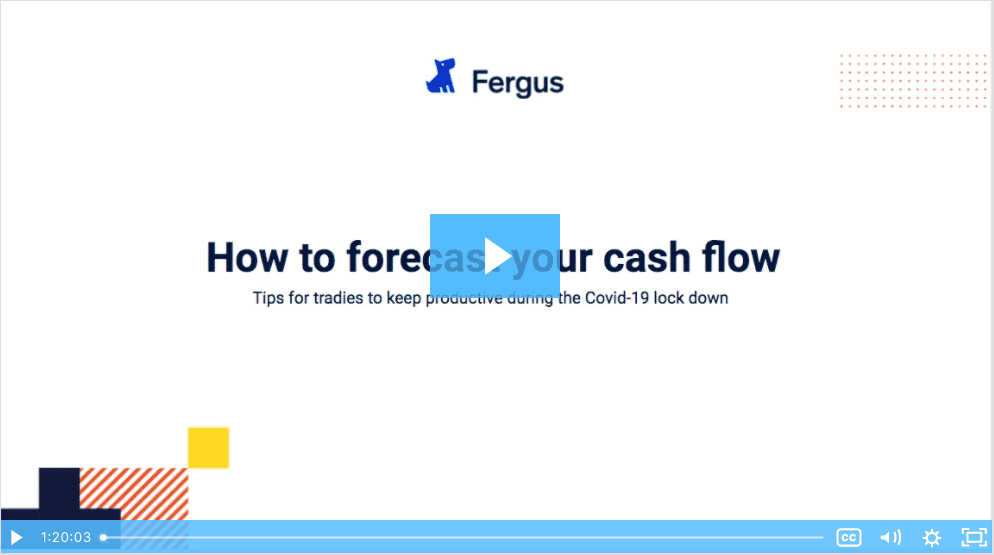 Plan the work and work the plan
Once you have alignment, you've tackled ambiguity (the best you can) and come up with your plan, it's time to start taking action.
Your actions should focus on you winning work and securing future cash flow. You may need to put some thought into areas of your business you need to adapt to meet changing market conditions. Consider doing some, if not all of the following:
Contact your debtors. Ask them for 80% now. For many people, 100% will be too hard right now, but if you can meet them part way and set them up on a payment plan you are more likely to get the full amount.
Contact your work to do. You'll likely have incomplete jobs or jobs not started on time. Check where these people are at. What are their new timeframe expectations and are they comfortable with you commencing work again? Can they afford to finish it? Be wary of issuing credit right now, especially if you don't know them well.
Contact as many of your customers as you can and book in future work now. Knowing what work you are coming back to is a fundamental component of your financial plan.
Set yourself up to be able to communicate via video conferencing. It's possible to quote remotely and communicate with customers via video call. Get the customer to walk you around their home or the job site. There are a load of options out there, be it Zoom or Whatsapp or even Facebook messenger. Get the customer to walk you around their house and show you what you need to see.
Get used to discussing price up front. Whether it's over video or on-site, get really comfortable with talking money with your customers. You need to be able to deliver a quote quickly and professionally to win work and provide a great customer experience. Quote on the spot, get an agreement on price and take a deposit up front.
Get your materials delivered on site. Minimising contact with others is going to be around for a while. You must start taking advantage of your suppliers' delivery options and have your materials delivered to the job. Not only does it keep your tradespeople on site, but it means your team are exposed to less people outside of their "bubbles".
It might not be easy, but now's the time to put reaction aside and start acting with intention to take control of your business. You've got this!
For more on remote quoting and winning work, check out our business coaching sessions with Dan.