No matter what industry you're in, the ability to complete tasks quickly and efficiently helps to streamline your business and improve productivity around the board.
Manually building employee schedules takes a lot of time and energy. And in this digital world, it doesn't really make sense to still be employing manual means of booking.
If you work in trades, software scheduling apps can do most of the heavy lifting for you. From managing deadlines to tracking payments, scheduling shifts and employee timetabling – this software makes it easier to build and track your schedules, making it possible to focus on the bigger tasks at hand.
Essential features & benefits you need in a scheduling software app
Easy integration
When choosing a scheduling software app, look for one that can easily integrate with other platforms. A good software scheduling program can integrate various data management apps or tools so that you can access all your important apps in one place. Imagine running your job scheduling app and accounting system separately. Any invoices or quotes recorded on your job management software would have to be re-entered manually into your accounting database. This is time-consuming and increases the risk of human error. But with an integrated software app, you will have clear, simultaneous visibility of all areas of your business.
Clear reporting and dashboard
Management and other staff should be able to view employee data and customise reports when necessary. So ideally, your chosen scheduling software app would have an easy-to-navigate dashboard that features real-time meeting rooms as well as updates so that you and/or your clients can stay informed of a project's or employee's status. With Fergus, you get real-time notifications so that you can view important changes to jobs, employee availability, locations and more.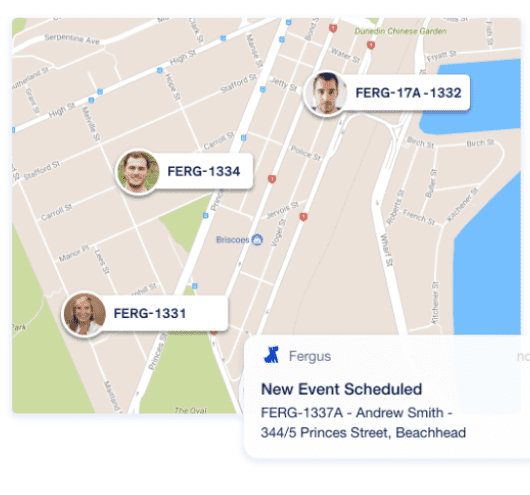 Mobile-friendly
As a tradie, you're always on the move. For this reason, you'll want a scheduling software platform that has a robust mobile app. This means that you can access the dashboard and tools of your scheduling software directly on your phone wherever, whenever. So whether you're at home or at the job site, you can pull out your mobile and access important insights such as client contact information, schedules and appointments without having to log into a desktop computer or laptop.
Visual calendar
One of the risks that come with manually booking is human error including overbooking, double-booking or overlooking essential job details. A good scheduling software app will minimise these risks and provide you with a clear visual calendar that you can view on your dashboard. A visual calendar will allow you to see at a glance what needs to be done along with any important appointments coming up – helping you to schedule jobs more effectively.
Auto scheduling
Scheduling your team and assigning jobs to workers can be difficult if all are done offline. Get rid of the phone tennis and avoid scheduling conflicts with a scheduling software app that features auto-scheduling. With job management software like Fergus, scheduling and assigning jobs is easy. Our fully-customisable visual calendar means that you can see what your team has on so that you can allocate jobs without issue. See what jobs are booked, what needs to be booked and who is available for jobs by selecting the job and dragging it into an available slot in your calendar. Auto scheduling will then take care of the rest by assigning a team member who is best placed to get the job done. Using scheduling software in this way can help you to better manage your and your team's time and avoid any scheduling conflicts that may delay or jeopardise a job or project.
Access to key insights
Most scheduling software apps analyse and collect key data and insights that can help you keep track of things like customer behaviours, materials procured, how many jobs are averaged in a month and outstanding invoices. This allows you to make more informed decisions when it comes to growing your business and client base. Having access to current and old project data can help you to find new ways of allocating budgets and leading cost-effective projects as well as gain some insight into which projects are wasting resources.
Payroll tracking
Another great feature to look out for in a scheduling software app is payroll tracking. With a payroll tracking feature, the gross pay an employee earns is automatically calculated as soon as they clock off their shift. Some apps allow you to see how much an employee has earned that week based on the hours worked. You can then copy this information into your integrated accounting software or separate payroll system, making it easier to calculate payments and invoices.
Training and support
Most scheduling software vendors will provide mobile support and free training so that you and your team can be comfortable managing your schedules and jobs. From demo videos to how-to guides and 24/7 online or on-call help, the more you know about your scheduling software the more effectively you can use it and get the most out of it.
Get a tradie-friendly scheduling software app
If you're a tradie, you need a scheduling software app designed specifically for tradespeople! With access to all these features and more including how-to tutorials, a Help Centre and thousands of customer success stories, Fergus makes job scheduling for tradies a walk in the park. Start your free trial with Fergus here.