This week has been a busy one for New Zealand, as we move through the Alert Level system of COVID-19 that was created by the New Zealand Government. As of May 14, New Zealand moved to Alert Level 2.
What does this mean for retail and what does this mean for Tradies? Under Alert Level 2, retailers can open up shop-fronts but must operate within the H&S framework laid out by the Government.
To help simplify what you need to know in order to easily collect your trade materials we thought we'd share with you what some of our favourite suppliers are doing and how you can use Fergus to help make shopping under Alert Level 2 safe, simple and easy.
What are some of the changes you can expect to see in trade and materials stores?
First up, you'll need to wash your hands. Something we have been consistently reminded of and that won't be changing anytime soon. You'll notice that retailers are offering hand sanitizer upon entry and exit of stores, so if you don't have any in your van, make sure you grab what's on offer!
Secondly, contract tracing. We all know now how critical it is that we effectively and accurately contact trace, everyone, you have been in contact with during this time. That way if you or someone else you've been in contact with falls ill, this information can be used to quickly stop the spread of COVID-19.
So when you next pop into a Reece, JA Russell, Micos, Ideal Electrical or a Corys branch to pick up the materials you need, expect to fill in a contact tracing form.
In keeping with social distancing measures, many trade materials suppliers branches have updated their store layout to ensure that tradies (and retail shoppers) can maintain a minimum of 1m distance to others while in-store. This helps to protect you and their staff. In some branches, there may also be limits on how many people can be in the store at any one time.
Much like Alert Level 3, suppliers continue to offer contactless click-n-collect and some are only offering consultations by appointment. It's a good idea to jump online first to check if you need to book in a time or phone ahead, before collecting your materials.
Further to this, stores are now advised to only accept contactless payment, to help limit any unnecessary contact between staff and customers.
Contactless payment via Fergus Supplier and Accounting Integrations
Want to reduce contact? Our Accounting Integrations are an easy contactless payment solution. If you've connected your Xero or MYOB account to Fergus, you'll be able to pay your suppliers invoices via Fergus.
To get started, make sure you're connected to your supplier of choice via the Fergus integrations centre, in the Fergus App.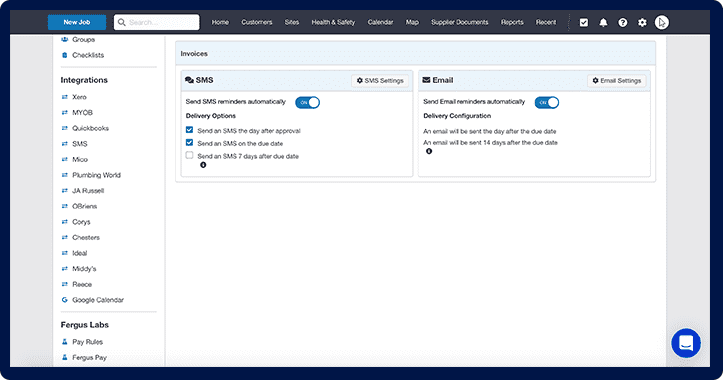 Check out our list of Integrated Supplier Partners by clicking here. Once you've connected your Fergus account via one of our invoice integrations, your invoices will appear overnight and you can continue to process these digitally via Fergus - one less thing for you to worry about!
Not on Fergus yet? You can sign-up for a Free Trial by clicking here and get started with any of our Trade and Materials Supplier integrations and Accounting integrations here.
We've also stacked our TradeHub with short, simple videos that help you get your Fergus account connected to your favourite suppliers. Check out our How-To Videos here or you can reach out to our Fergus Support Team at support@fergus.com with any other questions you might have.
Below are links with more detailed information on what shopping under Alert Level 2 looks like: